SCHAUMBURG, Ill., Dec. 5, 2014 - As part of a renovation to the Toyota Sports Center in El Segundo, California, the 2012 and 2014 Stanley Cup Champion Los Angeles Kings have installed Black Iron Strength® dumbbells and attachments made with CuVerro® in their strength and training facility.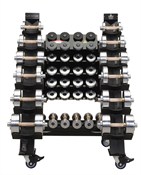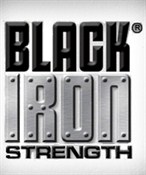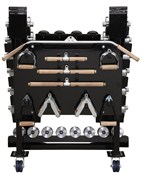 "Chris Kingsley, the head athletic trainer of the LA Kings called me," says Tom Grace, President Black Iron Strength and Grace Premier Fitness. "I sent him the research about the CuVerro bactericidal properties and he reviewed all of it. Manufactured entirely in the U.S., from the time the order was placed to installation it took only 8 weeks including the customization that was required."
Black Iron Strength high end strength training equipment is the only fitness product line featuring CuVerro® bactericidal copper gripping surfaces. CuVerro bactericidal touch surfaces continuously kill 99% of infectious bacteria*. An EPA-registered copper alloy surface, the inherent properties of CuVerro have been proven effective 24/7, never washing out or wearing away.
"Our objective is to further minimize the exposure of bacteria in our training spaces and having dumbbells with CuVerro copper handles made huge sense in upgrading our equipment," says Matt Price, LA Kings head strength and conditioning coach. "The net reduction of the spread of bacteria is our goal as we look to minimize athlete's time lost unnecessarily to illness."
"Anything a strength coach or trainer can do to lower the probability of athlete sickness and infections is worth paying attention to. It can literally cost millions," Mr. Grace says. Many inquiries have stemmed from the Tampa Bay Buccaneers MRSA outbreak last year in which three Tampa Bay Bucs have not played pro football since.
"Any virus or bacteria, the flu or even small cuts makes one susceptible to illness. Coupled with immune systems being compromised because of all the travel athletes endure - the probability of getting sick is higher. Living and working out together in close quarters increases susceptibility and hand hygiene is particularly important. That's where free weight systems and equipment comes into play," Mr. Grace adds. Just two weeks ago the Anaheim Ducks sidelined two players including goals leader Corey Perry after being diagnosed with the mumps.
*Laboratory testing shows that, when cleaned regularly, CuVerro surfaces kill greater than 99.9% of the following bacteria within 2 hours of exposure: Methicillin-Resistant Staphylococcus aureus, Staphylococcus aureus, Enterobacter aerogenes, Pseudomonas aeruginosa, E. coli O157:H7, and Vancomycin-Resistant Enterococcus faecalis (VRE).The use of CuVerro® antimicrobial copper products is a supplement to and not a substitute for standard infection control practices; users must continue to follow all current infection control practices, including those practices related to cleaning and disinfection of environmental surfaces. This surface has been shown to reduce microbial contamination, but it does not necessarily prevent cross contamination.
About Black Iron Strength
Black Iron Strength® products are sold by Grace Premier Fitness and Wellness Products, Inc., the leading worldwide distributor for the US Patented CuLEAN® antimicrobial copper touch points on the Black Iron Strength® free weight equipment handles and touch surfaces featuring the CuVerro® bactericidal copper components. For more information about Black Iron Strength® products, emailTom Grace, President of Black Iron Strength®, at tom@gracefitness.com, visit www.blackironstrength.com, or call 1-360-574-6524.
About CuVerro
CuVerro® is manufactured by GBC Metals, LLC, doing business as Olin Brass, a wholly owned subsidiary of Global Brass and Copper, Inc. which is a subsidiary of Global Brass and Copper Holdings, Inc., the leading manufacturer and distributor of copper, copper-alloy and bactericidal copper sheet, strip, plate, foil, rod, ingot and fabricated components in North America and one of the largest in the world. GBC Metals engages in the melting, casting, rolling, drawing, extruding and stamping of specialized copper and copper alloys finished products from scrap, cathode and other refined metals. For more information about CuVerro, contact Kon John, Director CuVerro Market and Business Development, at Kon.John@olinbrass.com, visit www.cuverro.com or call 1-877-311-2883.
Copper and copper alloys are engineering materials that are durable, colourful and recyclable and are widely available in various product forms suitable for a range of manufacturing purposes. Copper and its alloys offer a suite of materials for designers of functional, sustainable and cost-effective products.
Some specific copper alloys have intrinsic antimicrobial properties (so-called 'Antimicrobial Copper') and products made from these materials have an additional, secondary benefit of contributing to hygienic design. Products made from Antimicrobial Copper are a supplement to, not a substitute for standard infection control practices. It is important that current hygiene practices are continued, including those related to the cleaning and disinfection of environmental surfaces.