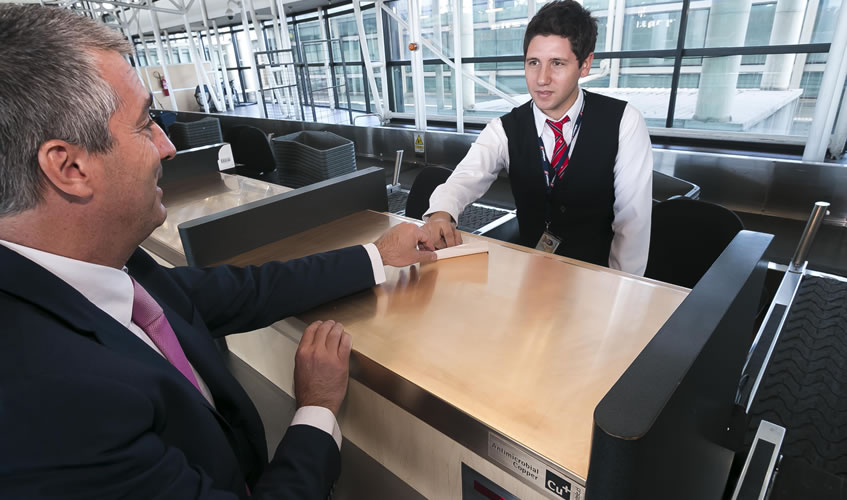 Passengers travelling through Santiago International Airport are now protected by antimicrobial copper surfaces in 3 areas of the facility
8 January 2018
Passengers travelling through Santiago International Airport are now protected by hygienic antimicrobial copper counters when using check-in desks.
A total of 115 national and international passenger service counters have been fitted with antimicrobial copper counters and further counters upgraded to copper in the new international exit area where transportation services for passengers are offered.
These latest hygiene measures follow on from the 2015 installation of antimicrobial copper in the 75 border control desks, where immigration procedures are carried out both on leaving and arriving in the country.
Touch surfaces in busy transport hubs can serve as reservoirs of bacteria than can be spread between passengers, and between passengers and staff.
Professor Keevil, a leading expert in environmental health at the University of Southampton, explains the value of antimicrobial copper in transport hubs like airports: ''People with inadequate hand hygiene from different countries could exchange their bacteria and different antibiotic resistance genes just by touching a counter top or door handle, ready to be picked up by someone else and passed on. Copper substantially reduces and restricts the spread of these and other infections, making an important contribution to improved hygiene and, consequently, health.'
Santiago International Airport handles 21 million passengers a year and now each will pass through at least one zone protected by antimicrobial copper.
Illustrating the multi-faceted characteristics of the red metal, a new copper artwork now graces the international departure area. A 70-metre-long wall piece called 'Poetic Geography' takes the form of a mountain range and represents the sound waves generated by the wind in the mountains combined with the sound produced when reading poems by the world-renowned Chilean poets Pablo Neruda, Gabriela Mistral and Nicanor Parra.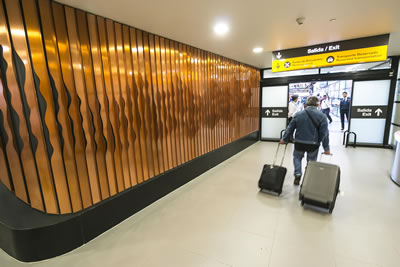 Copper and copper alloys are engineering materials that are durable, colourful and recyclable and are widely available in various product forms suitable for a range of manufacturing purposes. Copper and its alloys offer a suite of materials for designers of functional, sustainable and cost-effective products.
Copper and certain copper alloys have intrinsic antimicrobial properties (so-called 'Antimicrobial Copper') and products made from these materials have an additional, secondary benefit of contributing to hygienic design. Products made from Antimicrobial Copper are a supplement to, not a substitute for standard infection control practices. It is essential that current hygiene practices are continued, including those related to the cleaning and disinfection of environmental surfaces.