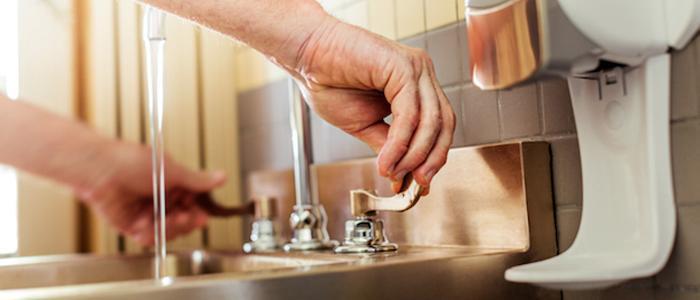 Technologies and materials expected to significantly reduce incidence of infection.
4 January 2018
The University of Louisville Hospital's Bone Marrow Transplantation Unit, in combination with UofL's James Graham Brown Cancer Center, is the latest hospital facility – and first in the Kentuckiana region – to use antimicrobial copper as part of an overall strategy to control infections.
Evidence shows that when copper touch surfaces are part of an infection control strategy, these surfaces carry substantially lower bacterial loads, reducing the risk of spread of infection.
UofL Hospital and its architects recognised the benefits of using copper in the unit's recent renovation. Almost every fixture touched by human hands is made of the antimicrobial metal: patient room sinks, bathroom sinks, taps, door hardware, cabinetry hardware and shower safety grab bars. There are approximately 20 separate surfaces in each of the 16 rooms in the unit plus another 10-20 fixtures in each hallway, common area, office and treatment room. The components were supplied by CuVerro affiliate manufacturers including Just Manufacturing, Trimco, Rocky Mountain Hardware and Seachrome.
The University partnered with JRA Architects and together develop a plan to reduce the incidence of healthcare-acquired infections (HAIs). At any given time, about 1 in 25 inpatients has an infection related to hospitals or other healthcare facilities in the United States. These infections lead to the loss of tens of thousands of lives and cost the US healthcare system billions of dollars each year.

"HAIs can happen in any healthcare facility," said UofL Hospital Chief Medical Officer Jason Smith, MD, PhD, including hospitals, ambulatory surgical centers, long-term care facilities and others. "They are caused by bacteria, fungi, viruses or other less common pathogens. The new systems installed at UofL Hospital will have a significant impact in reducing the incidence of HAIs."
"Incorporating new technology shows our commitment to providing a safe environment for patient care," said Director of Infection Prevention and Control, Sarah Bishop, APRN.
Copper and copper alloys are engineering materials that are durable, colourful and recyclable and are widely available in various product forms suitable for a range of manufacturing purposes. Copper and its alloys offer a suite of materials for designers of functional, sustainable and cost-effective products.
Copper and certain copper alloys have intrinsic antimicrobial properties (so-called 'Antimicrobial Copper') and products made from these materials have an additional, secondary benefit of contributing to hygienic design. Products made from Antimicrobial Copper are a supplement to, not a substitute for standard infection control practices. It is essential that current hygiene practices are continued, including those related to the cleaning and disinfection of environmental surfaces.