Infectious diseases are spread through person-to-person contact – more frequently through the hands than by any other method. While handwashing is the best line of defence against infection, it can be challenging to manage in public places. Antimicrobial copper handrails provided a hygienic and aesthetically pleasing solution to help tackle this problem on the Santiago metro.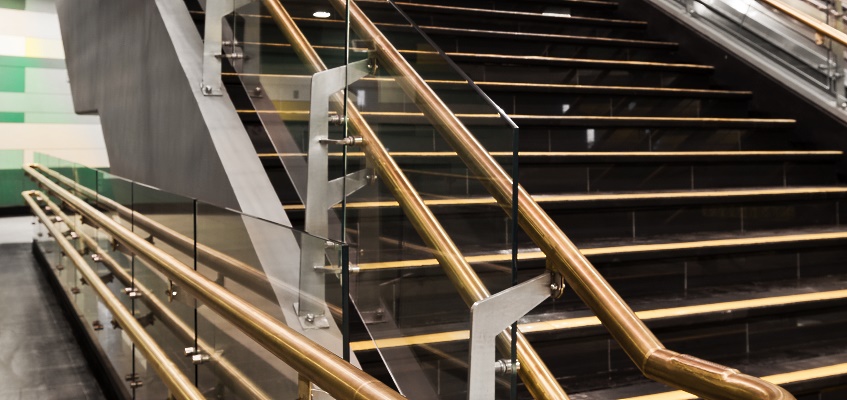 Image courtesy of Cristian Barahona
With construction of the new Santiago Bueras station imminent, Codelco explained the benefits of antimicrobial copper handrails to Metro, the government's subway firm. Antimicrobial copper prevents the growth of bacteria, thereby minimising the possible spread of infection for the estimated 6,500 daily users of the Santiago Bueras station. Traditionally, nearly 100 percent of all handrails found in public transportation systems are manufactured from stainless steel, which does not prevent the growth of bacteria. Metro decided to change its original plans and go
with the copper design from Codelco.
The new Santiago Bueras station uses 350 m of copper alloy (Cu-Zn) tubes. The expanding Santiago underground transportation service will add 10,000 m of copper-alloy handrails to its new stations, providing an additional level of safety and security to public transportation users. At least 30 stations will be outfitted with copper over the next three years. Additionally, Metro is considering replacing stainless steel in its older trains and stations with copper.
Copper and copper alloys are engineering materials that are durable, colourful and recyclable and are widely available in various product forms suitable for a range of manufacturing purposes. Copper and its alloys offer a suite of materials for designers of functional, sustainable and cost-effective products.
Copper and certain copper alloys have intrinsic antimicrobial properties (so-called 'Antimicrobial Copper') and products made from these materials have an additional, secondary benefit of contributing to hygienic design. Products made from Antimicrobial Copper are a supplement to, not a substitute for standard infection control practices. It is essential that current hygiene practices are continued, including those related to the cleaning and disinfection of environmental surfaces.