The Paul W. Ahrens Fitness Center – part of Grinnell Regional Medical Center – features state-of-the-art equipment including antimicrobial copper touch surfaces.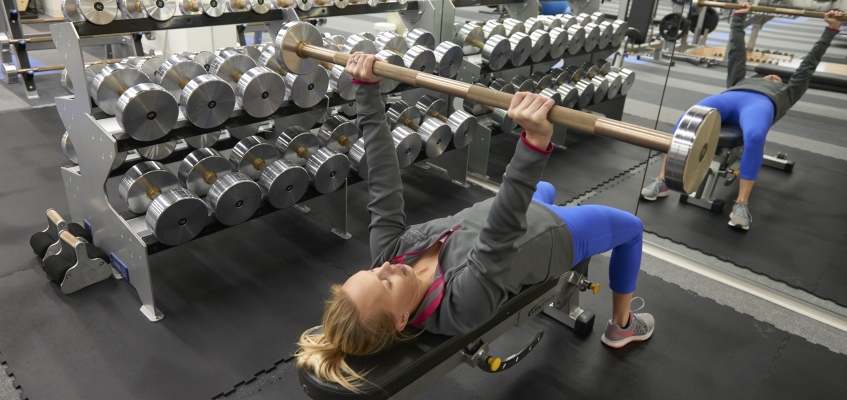 Products with CuVerro antimicrobial copper touch surfaces can be found throughout the Fitness Center, including free weights, switch plates, door and tap handles.
Todd Linden, GRMC President and CEO, was instrumental in outfitting the facility. 'I see CuVerro surfaces as a significant factor in creating cleaner healthcare and community environments,' he noted. 'With a desire to be health conscious, the notion that creating an environment that's as free as possible from bacteria and the spread of infectious bacteria is what appealed to us. We believe it is important for the mission of the fitness center. CuVerro will be good for clients, the staff of the facility and the community to live in as well.'
A range of manufacturer affiliates worked closely in the development and installation of products, all made from CuVerro antimicrobial copper, with free weights by Black Iron Strength, switch and outlet plates by Eaton, cabinet hardware by Colonial Bronze and grab bars and tap handles by Rocky Mountain Hardware.
The Ahrens Fitness Center has more than 400 members. In addition to fitness services, it also offers acupuncture, chiropractic care, physical therapy and therapeutic massage.
Copper and copper alloys are engineering materials that are durable, colourful and recyclable and are widely available in various product forms suitable for a range of manufacturing purposes. Copper and its alloys offer a suite of materials for designers of functional, sustainable and cost-effective products.
Copper and certain copper alloys have intrinsic antimicrobial properties (so-called 'Antimicrobial Copper') and products made from these materials have an additional, secondary benefit of contributing to hygienic design. Products made from Antimicrobial Copper are a supplement to, not a substitute for standard infection control practices. It is essential that current hygiene practices are continued, including those related to the cleaning and disinfection of environmental surfaces.