The prestigious Francis Crick Institute research facility, in the heart of London's Knowledge Quarter, has antimicrobial copper door furniture throughout its laboratory and visitor areas.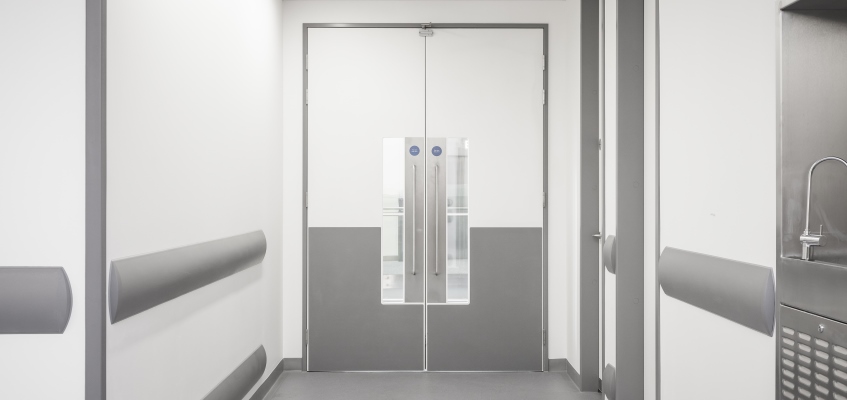 The Francis Crick Institute is an ambitious collaboration of six founding research partners: the Medical Research Council, Cancer Research UK, Wellcome, University College London, Imperial College London and King's College London. The world-class biomedical research facility aims to discover how and why disease develops in order to find new ways to prevent, diagnose and treat conditions such as cancer, heart disease and stroke, as well as infections and neurodegenerative conditions.
Specified for use within a series of laboratory environments and high traffic areas—including auditorium doors—are antimicrobial copper pull handles and push plates from UK manufacturer and specifier Allgood's Contego range. In addition, Contego lever handles and bathroom turns have been used for WC doors and storage cupboards throughout the building.
Designed by architects HOK with PLP Architecture, the overall building concept emphasises visual permeability, collaboration and innovative lab planning. A technically complex and challenging construction project, the Crick has been designed to the highest specifications to ensure the most sensitive biomedical research can be undertaken within the facility. Constructed by Laing O'Rourke and supported by engineers, Arup and AKT II, the facility is 170m long, comprising almost one million square feet of floor space over 12 floors, one third of which are below ground.
David King, Senior Vice President at HOK observes, 'The Francis Crick Institute is the largest and most advanced research facility of its kind in Europe, but science is constantly evolving and therefore requires a highly collaborative environment to facilitate scientific research. We are delighted that our holistic design solutions will aid the Crick's aspiration of "discovery without boundaries", helping to keep London and the UK at the forefront of innovative medical research.'
Copper and copper alloys are engineering materials that are durable, colourful and recyclable and are widely available in various product forms suitable for a range of manufacturing purposes. Copper and its alloys offer a suite of materials for designers of functional, sustainable and cost-effective products.
Copper and certain copper alloys have intrinsic antimicrobial properties (so-called 'Antimicrobial Copper') and products made from these materials have an additional, secondary benefit of contributing to hygienic design. Products made from Antimicrobial Copper are a supplement to, not a substitute for standard infection control practices. It is essential that current hygiene practices are continued, including those related to the cleaning and disinfection of environmental surfaces.