In Avize, France—surrounded by champagne vineyards—elderly residents of the Avize Care Home are enjoying a new style of care with added protection from antimicrobial copper.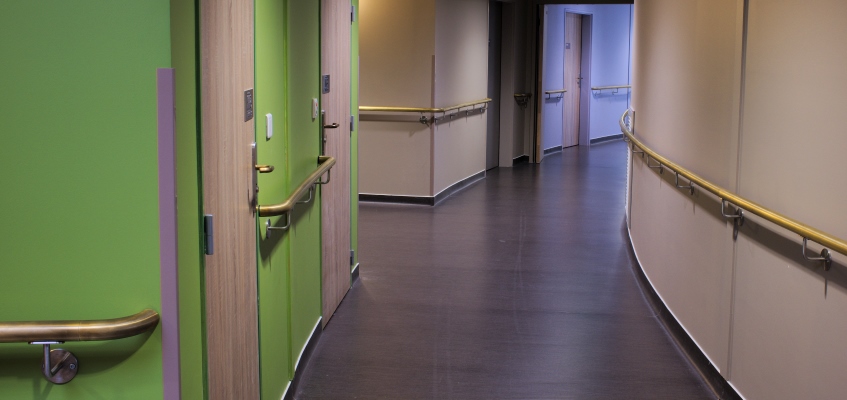 Avize is a new build by Arodie Damian Architects (associated member of A.26 Architectures), shaped to look like a flower or a shell, conveying a spirit of conviviality, protection and care towards the inhabitants. This theme continues inside, where the door handles and handrails are made from antimicrobial copper, contributing to a more hygienic and safer environment for all.
Patrick Chatel, Director of Avize Care Home, says: 'With this new care home, we wanted a place dedicated to the well-being of residents. An example of this is the antimicrobial copper door handles and handrails, which achieve the objective both from an aesthetic and a hygienic point of view. They're an integral part of our bundle of infection prevention measures.'
Manufactured by local company Steriall, the copper products bear a Cu+ mark, showing they are made from approved, solid copper alloys with antimicrobial efficacy backed by scientific research. These hygienic properties last their full lifetime, as there is no coating or surface treatment to scratch off or wear away.
Avize is one of seven care homes in the Champagne-Ardenne region participating in a three-year trial to establish the extent to which antimicrobial copper improve hygiene in a care home setting. Hospital trials around the world have shown a >80% reduction in contamination on copper versus non-copper surfaces.
Image courtesy of Steriall.
Copper and copper alloys are engineering materials that are durable, colourful and recyclable and are widely available in various product forms suitable for a range of manufacturing purposes. Copper and its alloys offer a suite of materials for designers of functional, sustainable and cost-effective products.
Copper and certain copper alloys have intrinsic antimicrobial properties (so-called 'Antimicrobial Copper') and products made from these materials have an additional, secondary benefit of contributing to hygienic design. Products made from Antimicrobial Copper are a supplement to, not a substitute for standard infection control practices. It is essential that current hygiene practices are continued, including those related to the cleaning and disinfection of environmental surfaces.