The Alameda Bus Station in Chile was the first bus station in the world to install antimicrobial copper touch surfaces.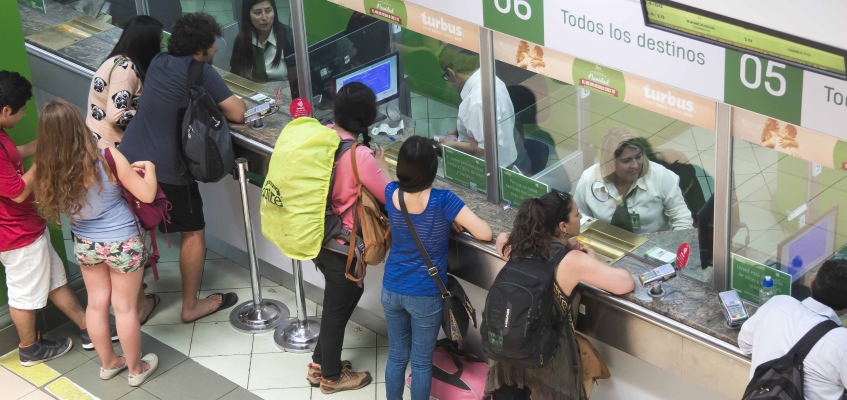 The Alameda Bus Station in Santiago is a main route for Chileans travelling between the north and south, seeing around 10 million people flow through it each year. With such heavy use, frequently-touched surfaces in the terminal are likely to become contaminated by sneezes, or germs from people's hands. Once deposited on a surface, germs can then breed and survive for days, weeks or even months.
Ticket counters and coin boxes at Alameda are now made from antimicrobial copper, which will continuously kill germs deposited on it, reducing the risk of them spreading and potentially causing infections.
'With the protection of antimicrobial copper, we are contributing to the prevention of infections, and so the health of our passengers and our team of cashiers,' explains Victor Ide, General Manager of Turbus, the company that runs the Alameda Bus Station. 'This is a unique project in an interprovincial terminal, and another step in our commitment to deliver good service from the time of purchase.'
Copper and copper alloys are engineering materials that are durable, colourful and recyclable and are widely available in various product forms suitable for a range of manufacturing purposes. Copper and its alloys offer a suite of materials for designers of functional, sustainable and cost-effective products.
Copper and certain copper alloys have intrinsic antimicrobial properties (so-called 'Antimicrobial Copper') and products made from these materials have an additional, secondary benefit of contributing to hygienic design. Products made from Antimicrobial Copper are a supplement to, not a substitute for standard infection control practices. It is essential that current hygiene practices are continued, including those related to the cleaning and disinfection of environmental surfaces.